The Event Design Collective has been growing! The latest Dutch addition is Ingrid Rip, with whom I am working on 5 articles about the use of Design in the Event Industry. You can check out the original article here at Meeting Magazine :
https://www.meetingmagazine.nl/magazine/artikel/1190/22276/van-design-thinking-naar-event-design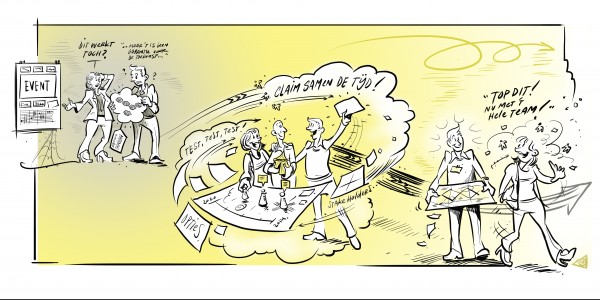 Design thinking stond aan de wieg van event design. Ik heb inmiddels een bijna heilig geloof in het goed onderzoeken met een divers team wat nu écht waarde toevoegt aan een event. Wat moet er echt veranderen? Het sparren over de wijze waarop je deze wenselijke verandering kan vertalen in een event vind ik iedere keer een feestje. Het gaat over stakeholders en hun doelstellingen, over verandering en vernieuwing richting impact, over meetbare resultaten en waardevol zijn: voor, tijdens en na het event. Eerst met kleine stapjes maar op de lange termijn leidend tot het bereiken van strategische doelen. Ik ga jullie in de komende maanden meenemen op een reis door 'Designland'.
Visuals: Dennis Luijer, MSc. www.visuallyyours.nl
Inhoud of Logistiek?
Als meetingplanner organiseer je events soms op bijzondere plekken, vaak met bijzondere sprekers. Je ontmoet een diversiteit aan mensen en je leert iedere dag meer. Hiervan krijgen de meesten veel energie, ze genieten ervan als ze een goed geolied event hebben neergezet. Ze hebben er oprecht lol in! Toch verzanden we vaak direct in de logistiek: "omdat ik als planner nu eenmaal niet van de inhoud ben", hoor ik vaak. We nemen de chaos en stress op de koop toe.
Of de opmerking "we doen dit al 10 jaar zo, ik hoef alleen de details maar aan te passen". Veranderen is griezelig en dus horen we vaak "liever geen veranderingen!". Ze weten immers wat ze nu hebben en stel je voor dat het na aanpassingen de mist ingaat? Dat risico wil je niet nemen. Bovendien is het overtuigen van de leidinggevende (of opdrachtgever) een 'dingetje'.
Te veel drempels en eerlijk gezegd, denk ik dat we er een aantal vrij eenvoudig kunnen weerleggen. Graag deel ik mijn gedachten hierover met jullie in een serie artikelen die je in deze en komende edities van dit magazine kunt lezen. Ik ben namelijk overtuigd dat het echt anders kan. En laten we niet vergeten dat we in een wereld leven die zo aan verandering onderhevig is, dat herhalen wat nu goed werkt geen garantie voor de toekomst biedt.
Het bewust ontwerpen van evenementen kost doorgaans tijd en geld. Er is een manier om dat in een later stadium weer terug te verdienen. As je je vooraf goed verdiept in je stakeholders en rekening houdt met de randvoorwaarden, kun je toewerken naar het creëren van meerwaarde. Meerwaarde zal leiden tot het realiseren van (strategische) doelen. Het maakt niet uit of dit een vergadering van 10 personen betreft of een congres van 2.000. Dit samen ontwerpen van meerwaarde wordt veel lastiger als je hiermee pas start nadat je begonnen bent met de logistiek.
Hoezo design thinking?!
Ok, even terug naar het begin: design thinking. Waar komt design thinking vandaan en waar gaat dit eigenlijk over? Als ik een korte definitie zou mogen geven: design thinking is gestart als een tool om te innoveren vanuit strategische, innovatieve gedachten. Het is een methode die je in staat stelt om vernieuwend te denken. Deze manier van 'anders' denken is bij veel mensen bekend van bijvoorbeeld het Business Model Canvas van Alexander Osterwalder (*1). Het Event Design Collective heeft het in 2014 in onze sector gelanceerd, zoals jullie hebben gelezen in mijn interview met Roel Frissen en Ruud Janssen (MM nr. 2 2019).
Design thinking gaat niet per definitie om het bedenken van nieuwe produc-ten, diensten of in ons geval meetings & events. Het gaat ook over het goed bekijken wat je al hebt en hoe je dit anders kunt inzetten zodat het meerwaarde biedt. Per slot van rekening zoeken we allemaal naar alternatieve manieren om bijvoorbeeld problemen op te lossen, strategieën te ontwikkelen, nieuwe inzichten te krijgen omdat de wereld om ons heen snel verandert en tijd een steeds schaarser middel is.
Ondanks al die veranderingen willen we zinvol bezig blijven, waarde toe voegen. Dat is een reden waarom mensen graag met je samenwerken, waarom ze terugkomen en wat dus zorgt voor continuïteit. Design thinking helpt je om nieuwe wegen te bewandelen, om waarde toe te voegen, impactvolle evenementen te organiseren, bijzondere ervaringen te ontwerpen volgens een creatief én gestructureerd proces. Als je dat goed doet, kun je je onderscheiden. Er is één addertje onder het gras: je moet eerst controle loslaten om vanuit de chaos van kennis, informatie en veranderingen een nieuwe weg te ontwikkelen.
Het proces
Het proces is eigenlijk eenvoudig: als je de doelen en de waarden kent van je organisatie (je 'Why' uit de Golden Circle *2) dan kun je verder onderzoek doen. Dat doe je bij voorkeur in samenwerking met diverse stakeholders. Je gaat op zoek naar alle kleine stukjes informatie die je gaan helpen om de uitdagingen, verwachtingen, de wensen en dromen van betrokkenen helder te krijgen. Je zoekt randvoorwaarden uit. Pas als je goed inzicht hebt, zal deze informatie je in staat stellen om ideeën te genereren die tot oplossingen leiden. Aan de hand van al deze ideeën kun je prototypes bedenken en komen tot een conceptvorm van je event. Deze kun je testen, evalueren en aanpassen. Keer op keer, want klaar ben je nooit. Immers de wereld om ons heen blijft veranderen en zo verandert het event iedere keer ook mee. Als je dit goed doet, creëer je loyale ambassadeurs.
Het is belangrijk een aantal cruciale aspecten in de gaten te houden als je een effectief ontwerp nastreeft, dat ontdekten onderzoekers van McKinsey (*3):
Ontwerpen is een continu proces waarvan je resultaten net zo streng meet als je dat doet voor omzet en kosten.
Werk met elkaar toe naar één vloeiende deelnemerservaring. Stel dus je deelnemers centraal!
Zorg dat je ook stakeholders bij het ontwerp betrekt en dat zij verantwoordelijkheid nemen.
Luister, herhaal, test in samen-werking met stakeholders, het is niet een eenmalige exercitie!
Uiteindelijk voegt het event waarde toe doordat er daadwerkelijk gedragsverandering plaatsvindt. Niet alleen de dagen erna maar het streven is voorgoed.

*1 Business Model Canvas by Alexander Osterwalder: www.toolshero.nl/strategie/business-model-canvas/
*2 Golden Circle by Simon Sinek: www.youtube.com
* 3 www.mckinsey.com/business-functions/mckinsey-design/our-insights/the-business-value-of-design
Ingrid Rip is een gedreven event-professional. Haar specialisatie is de (wetenschappelijke) associatie-markt. Ze is gecertificeerd meeting designer, trainer en consultant en helpt organisaties zoals convention bureaus, venues en verenigingen resultaten te verbeteren.
www.rrem.nl